Fiberglass Tape
---
Fiberglass Tapes are widely used for power and control cables, instrumentation and signaling cables due to its excellent flame resistance. Since Fiberglass Tape is high flexible and has high tensile strength it can be easily applied with high speed standard wrapping equipments.
Properties of Fiberglass Tapes :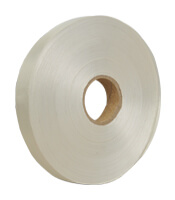 Exceptionally high dielectric strength
High tensile strength
Strong resistance to radiation, acid and alkali
Non-toxic under high temperature
Excellent flexibility
Heat resistance up to 950℃
Available Specifications:
Width: 15, 20, 25, 30, 40mm
Length: 800m (No Joint)
Core ID: 76mm
SPOOL (Traverse) winding and PAD winding is available.